High Speed rail networks worldwide
Japanese Shinkansen
---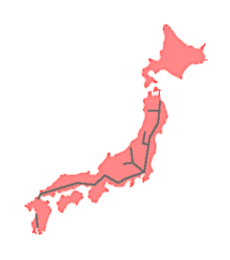 Japanese Shinkansen Network
When the Japanese Shinkansen opened it's first line from Tokyo to Shin-Osaka in 1964, it was the first of its kind worldwide. It was built to overcome the capacity problems of the, up-to then, all narrow-gauge rail network in Japan.
The 2500 km long system is one of the busiest worldwide and trains run up to 300km/h. As the Shinkansen trains have a broader gauge as the rest of the Japanese Rail Network, they run on high speed track only.
French TGV Network
---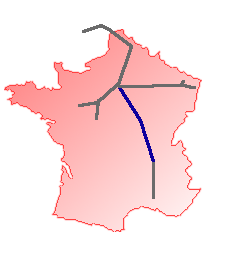 Blue: HSL South-East Paris-Lyon, 1981
Gray: Other HS-Lines
The French TGV Network is probably the most famous High-Speed Train Network. It started in 1981 with one single line, the HSL South-East between Paris and Lyon.
Conventional tracks are used as feeder-lines for the few high-speed sections, thus creating a complex network. There are direct TGV connections from most French cities, as well as some neighboring countries, to Paris.
Originally built for the use of the TGV trains, the tracks are now used as well by the Eurostar, Thalys and the German ICE trains.
Travel times for some destinations:
Paris-Lyon (425km): 2h
Paris-Marseilles (750km): 3h
Paris-London (450km): 2h
Paris-Bruxelles (300km): 1h 30min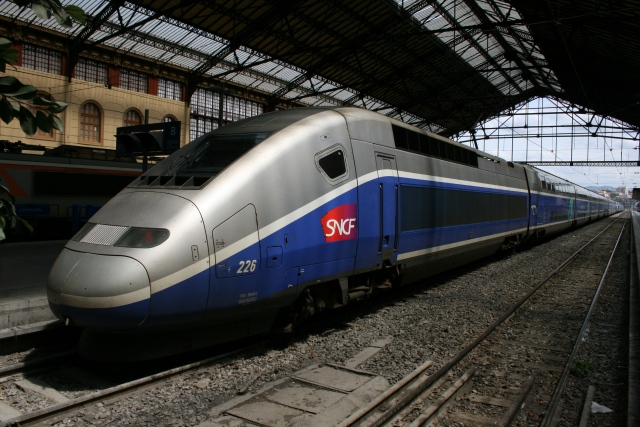 TGV Douplex in Marseilles (2008).
© Photo: Stefan Bracher
Eurostar and Thalys at Paris Gare du Nord (2008)
© Photo: Stefan Bracher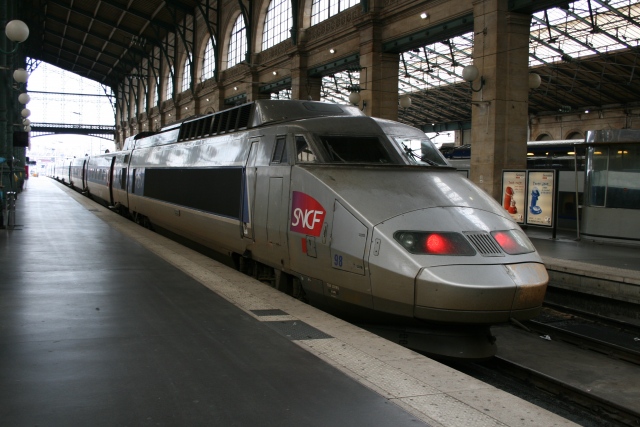 TGV Reseau at Paris Gare du Nord (2008)
© Photo: Stefan Bracher
German ICE Train
---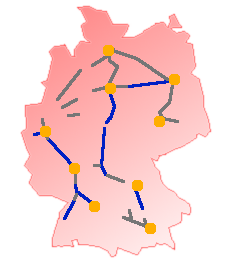 Blue:High Speed Rail (250-300 km/h)
Gray: Upgraded Track (200-230 km/h)
Germany's High Speed Rail Network and the train running on it, the Inter City Express (ICE) are in operation since 1991. The Network is a patchwork of new high speed lines and upgraded tracks, connected by conventional low speed sections.
In the 90s and early 2000s, Germany and France engaged in a competition for the fastest train. While the Germans led the race several times, the French ultimately won it in 2007 with a train running at 574.8 km/h. In the meanwhile the focus shifted from the national to the European level. French TGVs now use the German network as well as German ICE trainsets run to Paris and other cities in neighboring countries of Germany.
Swiss Rail 2000
---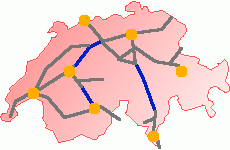 Blue: New High speed lines
Gray: Other Main Lines
Switzerland took a different approach than most other countries. The project Rail 2000 that started in 1987 aims to create a simpler timetable and improve the connection times. The principle is to have a network of transfer points, at which, trains arrive from all directions at the full or half the hour and leave a few minutes later.
To achieve this goal, the travel times between those transfer points had to be cut to under one hour. All network improvements have thus be done to run trains not as fast as possible, but as fast as necessary.
Rail 2000 details:
New track layout at stations, so trains from different directions can enter and leave at the same time
Various small track improvements
New tilting and pendular trains
A new high-speed core line of 45km between Matstetten and Rothrist.
Base Tunnels at the Lotschberg (34,6km) and the Gotthard (57km, still in construction)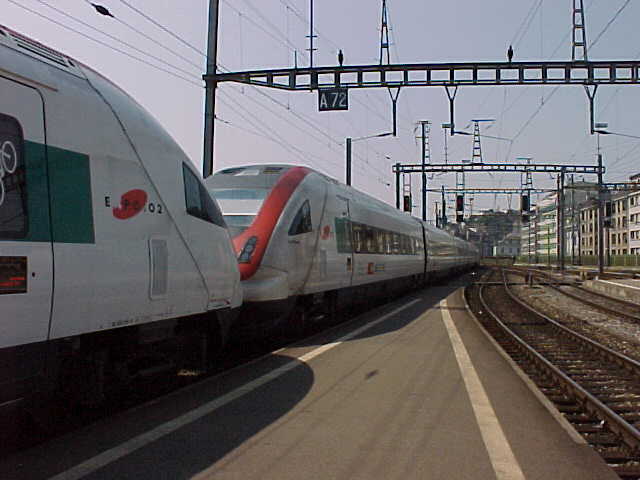 ICN Tilting Train at Geneva (2001).
© Photo: Stefan Bracher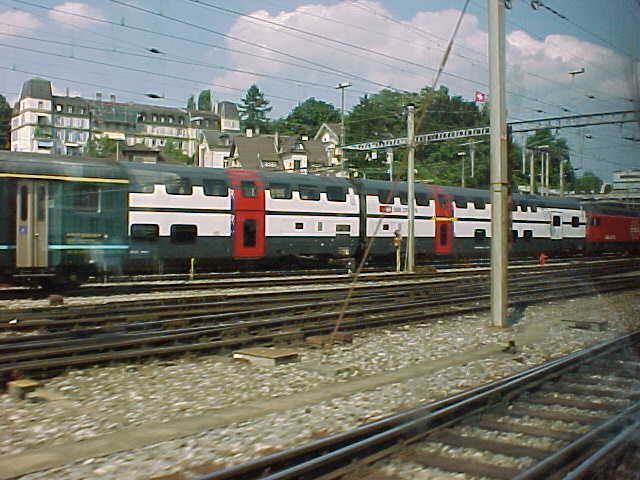 IC 2000 double decker train
© Photo: Stefan Bracher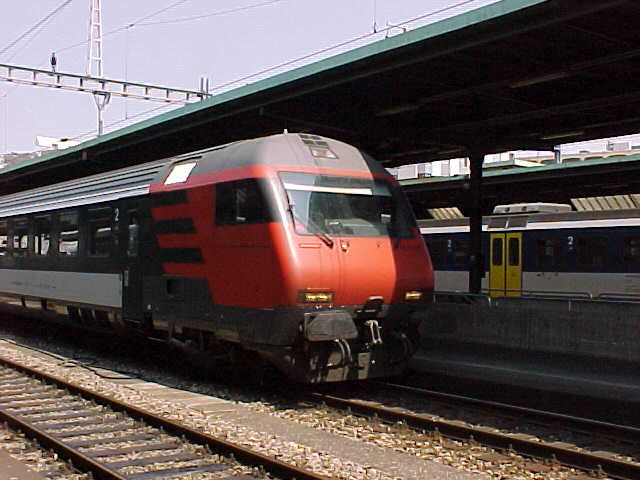 Pendular Train
© Photo: Stefan Bracher
Russian Sapsan
---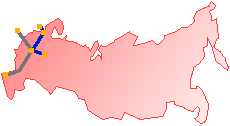 Blue: Operating lines
Gray: Discussed Lines
A frequently used argument against high speed trains in Canada is the climate. However, Russia, a country with very similar winter temperatures, already operates three high speed rail routes.
The Sapsan trainsets based on the German ICE run between St. Petersburg, Moscow and Nizhny Novgorod at a top speed of 250 km/h. Another line between St. Petersburg and Helsinki (Finland) is using a variant of the Italian Pendolino, the Allegro.
China
---
China started to upgrade some of its lines for 160 km/h travel in the late 1990s. Today it features the worlds largest (9000km and still growing) and busiest high speed rail network in the world. It also is home to the worlds longest high speed rail line: The 2300 km line from Beijing to Guangzhou.
Unlike other countries, where mostly one type of trains is used, China imported Japanese Shinkansen, Italian Pendolinos, Swedish X2000, German ICE3 and recently started to build its own trains.
© Webdesign and maintenance automation by Bracher-Automation